Wrightwood CA Emergency Resources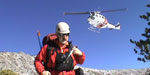 Wrightwood has several different Emergency Response Agencies that service the area. Wrightwood is unique, as it is located on the San Bernardino County and Los Angeles County border, making it subject to resources from both sides. It is not uncommon to see several agencies working together during Search and Rescue missions or natural disasters around Wrightwood. The following is a list of the agencies and other Emergency Resources available to the Wrightwood area.

Note: In case of an EMERGENCY dial 9-1-1, otherwise use the contact information listed below...
---
Wrightwood Area Fire Depts
Address: 5980 Elm Street, Wrightwood, CA 92397
Phone: (760) 249-3206
Website: www.sbcfire.org
Address: 25900 Big Rock Creek Road, Valyermo, CA 93563
Phone: (661) 944-5086
Website: www.fire.ca.gov
Wrightwood Area Law Enforcement Agencies
Address: 4050 Phelan Road #2, Phelan, CA 92371-4454
Phone: (760) 249-3212
Website: www.sbcounty.gov/sheriff
Address: 750 East Avenue Q, Palmdale, CA 93550
Phone: (661) 272-2400
Website: www.sheriff.lacounty.gov
Address: 2401 W Avenue I, Lancaster, CA 93536-7210
Phone: (661) 948-8541

Address: 14210 Amargosa Road, Victorville, CA 92392-2302
Phone: (760) 241-1186
Website: www.chp.ca.gov
Address: 24537 Big Pines Highway, Llano, CA 93544
Phone: (760) 249-3504
Website: www.fs.fed.us
Wrightwood Area Search and Rescue Teams
Address: P.O. Box 292000, Phelan, CA 92329
Phone: (760) 249-3212
Website: www.wpsar.org
Address: 501 W. Lancaster Blvd., Lancaster, 93534
Phone: (661) 272-2400
Website: www.avsearchandrescue.com