Jackson Lake
---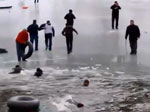 WARNING!
Do NOT play on the ice covering Jackson Lake in the winter!
Jackson Lake Description
Jackson Lake is a small body of water located in a canyon east of Wrightwood and Big Pines. Jackson Lake was formed by the San Andreas fault, and is mostly fed by snow runoff from the mountains. During summer months, many fishermen utilize Jackson Lake, as it is the only real place to go fishing in Wrightwood. During winter months it isn't uncommon to see the top of Jackson Lake frozen over with ice.

Jackson Lake is good for more than just fishing. The area is a hub for campgrounds and picnic areas. Around Jackson Lake you can find Mt Oak Campground, Lake Campground, Peavine Campground, Apple Tree Campground, Mescal Picnic Area, Jackson Lake Picnic Area, and several organizational camps.
Directions to Jackson Lake from Wrightwood
Take Highway 2 westbound from Wrightwood to Big Pines, at the entrance of Mountain High's West Resort. In Big Pines take the Big Pines Highway westbound (downhill), as opposed to Highway 2 which continues up to Inspiration Point. Continue on Big Pines Highway as it winds down the mountainside. You will pass several campgrounds organizational camps. Jackson Lake will be located on your left, along the side of the highway.
Jackson Lake Photos
Jackson Lake Maps