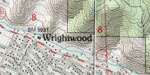 Wrightwood is a small mountain community located high in the San Gabriel Mountains, only about a 90 minute drive from Los Angeles. Due to its central location, Wrightwood is an easy drive, no matter where you're coming from, with minimal mountain driving. During the summer months, Highway 2 (the Angeles Crest Highway) is a common destination for many motorcyclists and other motorists looking for a scenic mountain drive like none other in Southern California. Don't wait any longer, come visit Wrightwood Calif today!
---
Driving Map from Los Angeles to Wrightwood
---
Driving Instructions from Los Angeles to Wrightwood
From Los Angeles, take Interstate 10 eastbound for approximately 38 miles to Interstate 15.
Take Interstate 15 northbound (toward Barstow / Las Vegas) for approximately 22 miles to the Hwy 138 exit.
From the Hwy 138 exit, take a left and continue for a little over 8 miles to Hwy 2.
Take a left on Hwy 2 and travel for another 5 mile to the center of the town of Wrightwood.