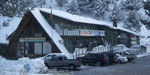 The town of Wrightwood, California is home to many local small businesses. These businesses include Restaurants, Bakeries, Bars, Gift Shops, Automotive Services, Ski Resorts and more. The businesses in Wrightwood form a very tight-knit community, making Wrightwood a great place to live, work, and visit. This directory offers free business listings to all businesses in the town of Wrightwood or that service the Wrightwood area. Support our community, visit your local Wrightwood Businesses today!
---
Premium Bars and Night Life Listings for Wrightwood CA
Address:
1253 Evergreen Road, Wrightwood, CA 92397
4359 Phelan Road, Phelan, CA 92371
Phone:
(760) 249-4100
(760) 868-6200
Website:
www.mexicolindos.com
Description:
Family owned restaurant, welcomes all who appreciate consistently superior food served at a friendly atmosphere-Wrightwood natives, vacationers and day visitors alike.
Other Bars and Night Life Listings for Wrightwood CA
Address:
6060 Park Drive, Wrightwood, CA 92397
Phone:
(760) 249-3440
Address:
5995 Cedar Street, Wrightwood, CA 92397
Phone:
(760) 249-4673
Address:
1269 Evergreen Road, Wrightwood, CA 92397
Phone:
(760) 249-4277
Address:
1350 Highway 2, Wrightwood, CA 92397
Phone:
(760) 249-5039
Address:
6046 Park Drive, Wrightwood, CA 92397
Phone:
(760) 249-6482