Mountain High and Wrightwood Snow Play
---
Mountain High Resort Information
Location: 24510 State Hwy 2, Wrightwood, CA 92397
Phone: (888) 754-7878

View Mt. High Live Camera


| | |
| --- | --- |
| It all began in the 1920s. Ski buffs flocked to an area called "Big Pines", near what is now known as Mountain High, in Wrightwood, California. By 1929, construction of the world's largest ski jump began and was completed in 1931, just in time for the 1932 Winter Olympics. Originally, they were scheduled to be held in Wrightwood, but unfortunately they were moved to Lake Placid, New York due to unforeseen circumstances. Nonetheless, Olympian Alf Engen set a new world record in Wrightwood with an amazing 243-foot jump. | |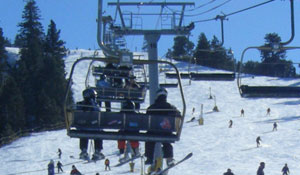 Today, the town of Wrightwood is home to the Mountain High Resorts. Mtn High West is one of Southern California's most-loved mountains by snowboarders and skiers alike, and is also is one of the oldest ski resorts in the United States. Originally known as "Blue Ridge", Mtn. High West was was first opened in 1937. It wasn't until Blue Ridge was sold in 1975 that it was officially renamed "Mountain High". At almost 8,000 feet, Mt. High West is the most popular resort due to its faultline terrain parks. Mtn High West is oftentimes the first resort in Southern California to open its gates to winter sports enthusiasts, and is usually the last to close.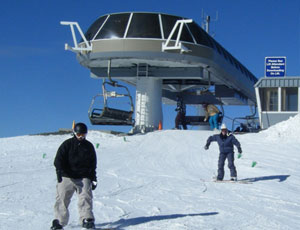 Mountain High East, beloved by thrill-seekers, opened in 1948 under the name of "Holiday Hill". In 1979, Holiday Hill was sold to the current owner of Mountain High. At first, the newly-purchased Holiday Hill was used as parking for Mt High, and when snow levels permitted it was also used as added terrain. The longest ski run in Southern California is known as Goldrush, and can be found at the East Resort.

What is presently known as Mountain High North was identified as the Table Mountain Ski Area in 1938. In 1975, the name was changed to "Ski Sunrise". In 2004, Ski Sunrise was sold to the owners of Mountain High and is now used as a tubing park. For those who are new to winter adventuring, the North Resort also provides beginning-level terrain and other snow-playing activities.
With a drive time that is approximately an hour and a half from Los Angeles and Orange County, Mountain High provides the fun and enjoyment of skiing and snowboarding without the sacrifice of travel time; all while boasting generally lower prices than resorts in Big Bear. With more than 100 acres of awesome terrain and open hours until 10 p.m., Mtn High is the place to go for hours that fit anyone's schedule.

Mountain High can be found at the same elevation as the resorts in Big Bear, without the more treacherous mountain roads. Choosing Mtn High as your go-to winter sports destination means you spend less time in your car and more time in the snow.

For further information, visit Mountain High's website at www.MtHigh.com.
Snow Playing near Wrightwood CA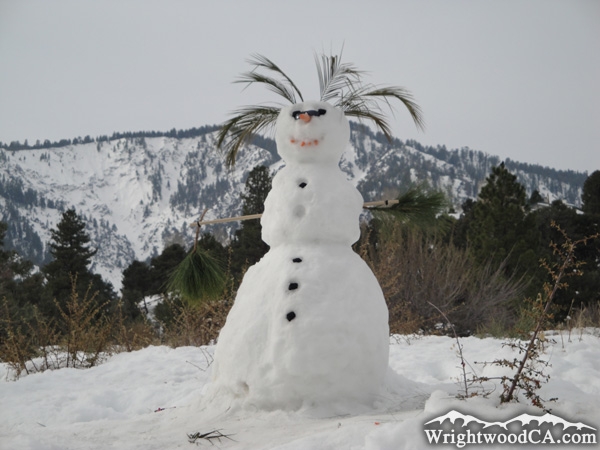 In the winter months, Wrightwood is in a key location for thousands of visitors interested in playing or sledding in snow. However it can be hard to find places to play in the snow as there are certain restrictions on the highways. It is required by the U.S. National Forest Service that a National Forest Adventure Pass is to be displayed on all vehicles parked for recreational purposes. Please note that National Forest Adventure Passes can be purchased for $30 a year per vehicle (or $35 for 2 vehicles), or for just $5 a day from the Big Pines Information Station. Other local venders of the Adventure Pass include Cinnamon's Bakery, Mountain Hardware, Jensen's, and the Wrightwood Mini Mart, all located in the town of Wrightwood.

If you are looking for a great place to buy sleds we suggest checking out Mountain Hardware in the center of town. They sell snow gear, snow sleds, and other snow play toys to make your day that much more enjoyable.

Most people just park along Highway 2 as you head up towards Southern California's Closest Winter Resort, Mountain High Ski Resort. Along Big Pines Highway, the Wrightwood Guest Ranch may offer snow playing on their property. Please refer questions to them about prices and restrictions please.
Skiing and Snowboarding Photos
Wrightwood Snow Play Photos