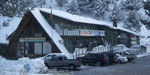 The town of Wrightwood, California is home to many local small businesses. These businesses include Restaurants, Bakeries, Bars, Gift Shops, Automotive Services, Ski Resorts and more. The businesses in Wrightwood form a very tight-knit community, making Wrightwood a great place to live, work, and visit. This directory offers free business listings to all businesses in the town of Wrightwood or that service the Wrightwood area. Support our community, visit your local Wrightwood Businesses today!
---
Premium Automotive Listings for Wrightwood CA
Address:
1370 Ross Sreet, Wrightwood, CA 92397
P.O. Box 2823, Wrightwood, CA 92397
Phone:
(760) 249-3131
Website:
N/A
Description:
Auto repair & maintenance on all makes & models, new and old.
Other Automotive Listings for Wrightwood CA
Address:
1256 Highway 2, Wrightwood, CA 92397
Phone:
(760) 249-6047
Address:
1415 Highway 2, Wrightwood, CA 92397
Phone:
(760) 249-5335
Address:
1315 Highway 2, Wrightwood, CA 92397
Phone:
(760) 249-6115